The summer continues in fine fashion in terms of good tech plans, proof of which is with these three VPN solutions with ideal services coupled with attractive prices.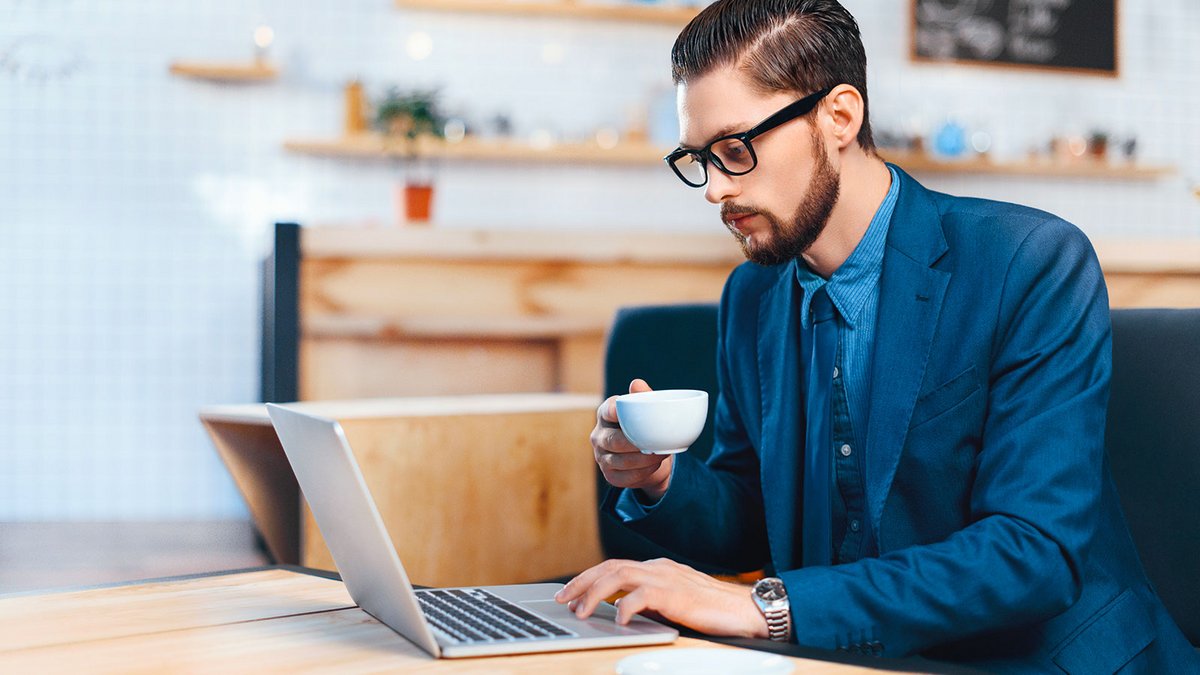 All three of them among the best VPN offers in 2022, CyberGhost, NordVPN and Surfshark offer you three long-term licenses at a knockdown price!
The 3 VPN offers on promotion to seize:
Surfshark crunches web pirates as well as its prices
Let's start this week's selection with a shark that's busy giving you cyber privacy while you sunbathe on the beach. With Surfshark, treat yourself to a 2-year + 2-month license for €2.30/month . You benefit from a reduction of -82% compared to the standard monthly rate in force. In total, you will be charged €59.70 for your subscription for 26 months, then annually if you wish to remain with Surfshark. All these prices are exclusive of tax and therefore require the addition of the 20% VAT in force. Finally, you have up to 30 days from the date of purchase to change your mind.
On the menu, a most attractive offer since a single license allows installation on an unlimited number of computers (linux, macOS, Windows), smartphones (Android, iOS), tablets and other compatible devices (internet box, game console , NAS, Smart TV, etc.). This is ideal for equipping not only your family, but also your friends at a low price!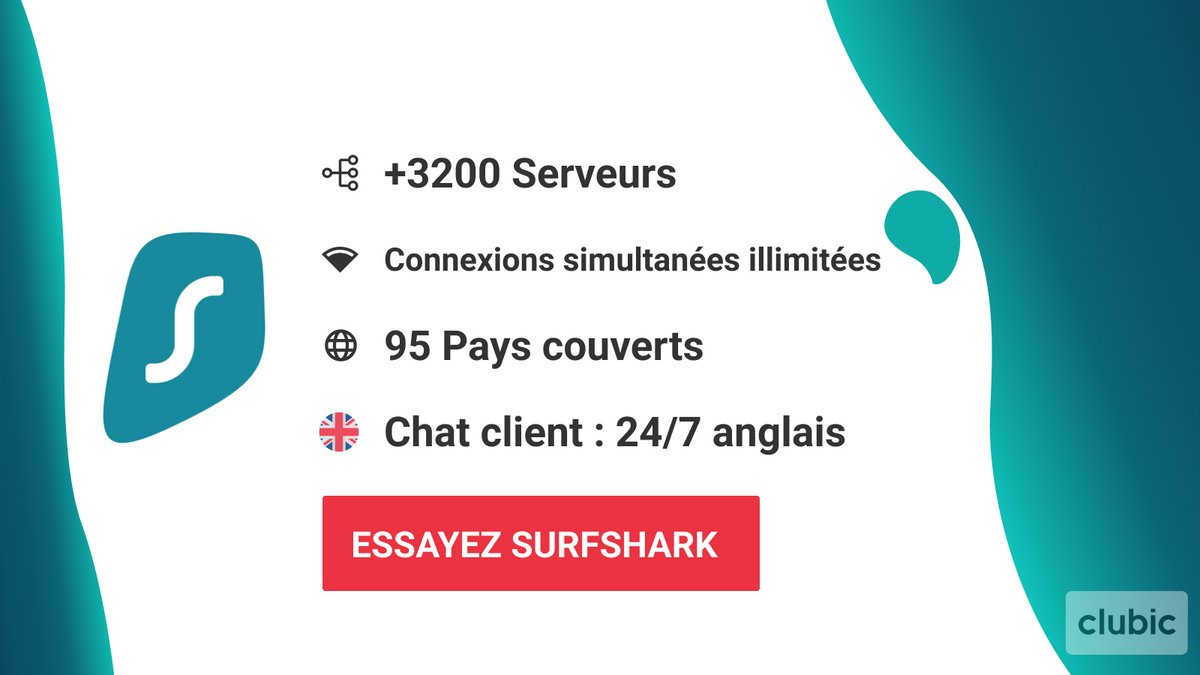 In order to encrypt your online browsing, Surfshark uses the best encryption standard, AES 256-bit, and has the excellent security protocols IKeV2, OpenVPN and WireGuard, while applying a strict no-logging policy thanks to registration in the British Virgin Islands. . You have a Kill Switch in case you lose your VPN connection, and benefit from Nexus, the latest technology made in Surfshark connecting you directly to a network of servers for increased stability, as well as an additional layer of protection. .
SurfsharkVPN
Speeds above average
Unlimited number of devices
Reinforced encryption
Although still young, Surfshark is a top service almost at the level of the best VPNs on the market. It stands out by offering an unlimited number of simultaneous connections as well as advanced security tools. It is one of the best possible choices for the general public.
Also count on 3200 servers in 95 countries and speeds of up to 10 Gb/s for maximized browsing and quickly forgotten latencies. Surfshark is also very effective in unlocking foreign catalogs from your favorite streaming platforms and includes responsive English-speaking customer service via chat 24/7. Thus, Surfshark gets a nice 8/10 in our 100% independent Clubic review.
Become a Ghostie at a low price until 2025!
Let's continue with one of the most famous little ghosts on the Internet, CyberGhost. Indeed, you can take advantage of a 3-year + 3-month license for only €2.11 per month . Enough to enjoy a discount of -83% with, it should be noted, a price including tax. After this period, you can renew your license for €82.30/year. And this time, it's not a 30-day but a 45-day money-back guarantee that's included!
With CyberGhost, you are able to gain cyber privacy on up to 7 electronic devices simultaneously, from traditional computers (Linux, macOS, Windows), smartphones (Android, iOS) and tablets to Smart TVs, game consoles, routers and browsers Web (Chrome, Firefox)!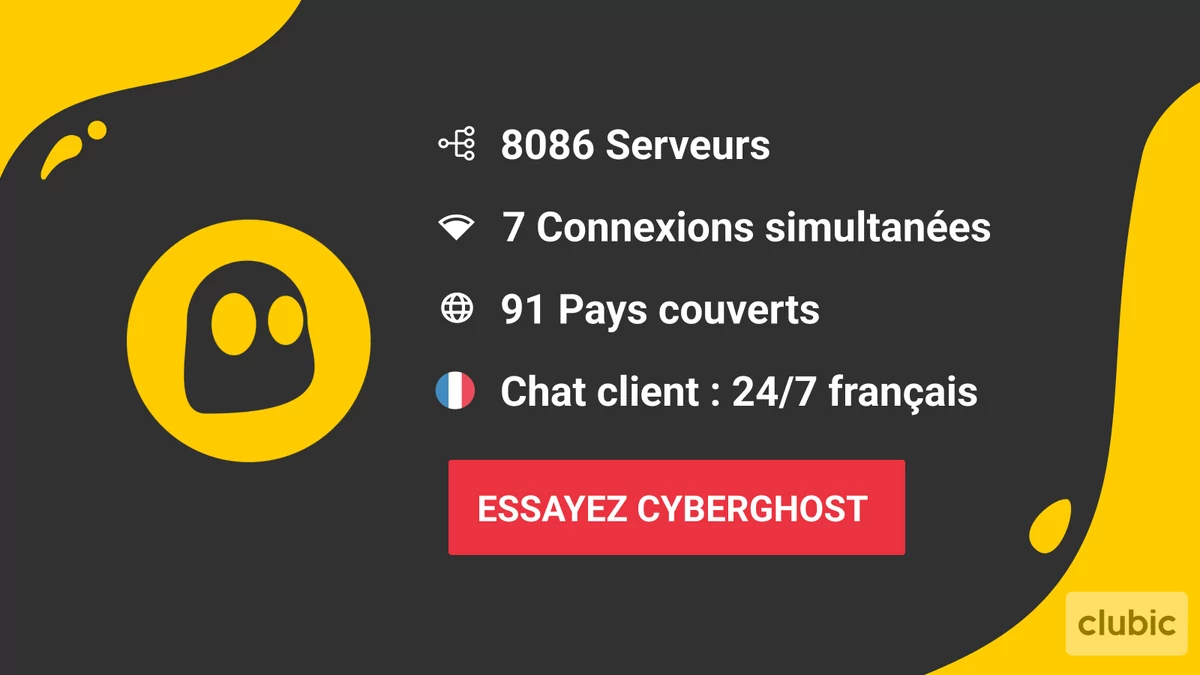 By applying a strict no-logging policy, CyberGhost guarantees that your practices and, more broadly, information about you, cannot be reused by the firm without your knowledge. For this, CyberGhost relies on Romanian legislation that is highly favorable to respect for privacy. Let's add that the firm uses the AES 256-bit encryption standard, also offers you a Kill Switch and gives you the choice between the IKeV2, OpenVPN and WireGuard security protocols.
CyberGhost VPN
Smooth GUI
Performance and value for money
Servers optimized for streaming and P2P
CyberGhost brings together all the qualities expected of a consumer VPN in terms of performance, security and functionality. Its modern and intuitive graphical interface makes it one of the most pleasant VPN services to use on a daily basis. The implementation of WireGuard on all platforms allows it to ensure excellent performance while remaining one of the best VPNs for accessing geo-blocked content.
Finally, count on a very wide choice of more than 8000 servers in 91 countries and 100 locations to meet all your needs, including streaming with servers at maximum speeds and great efficiency to unlock your content of the moment. Providing you with French-speaking customer service available 24 hours a day, 7 days a week, it's no surprise that CyberGhost took first place in our comparison with its excellent score of 9/10 in our 100% independent Clubic review.
Join the ranks of NordVPN at -72% for 2 years!
Let's conclude with the quiet strength and quality assurance that is NordVPN. In addition, the firm offers you its excellent VPN solution at only €2.89 per month for 2 years! You therefore benefit from a discount of -72% compared to the standard monthly rate, for a total over the 2 years of €68 excluding tax, with the 20% VAT in force to be added at the time of payment. Beyond that, you can keep your license for €87/year and, as with Surfshark, you have 30 days to change your mind with the money-back guarantee.
NordVPN is also convenient to share with your loved ones, or to equip several of your devices, since up to 6 of them are simultaneously covered with this license. Computers (Linux, macOS, Windows), smartphones (Android, iOS) and tablets of course, but also Smart TV (Android TV, Apple TV, Fire TV, etc.), game consoles (PS4, PS5, Switch, Xbox) many routers and other web browsers (Chrome, Edge, Firefox) can be equipped with NordVPN!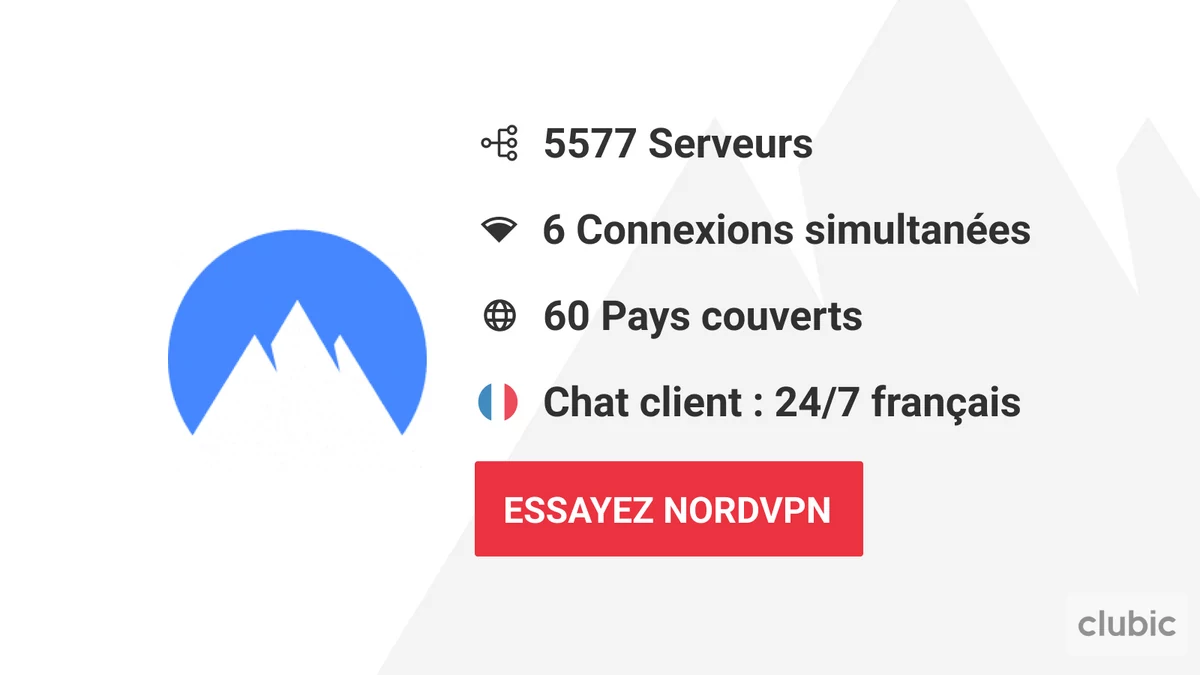 Let's add that NordVPN includes in this offer its latest anti-malware functionality. This allows you to find viruses that may potentially be in your downloads and regularly alerts you to the most infrequent sites for your cybersecurity. A Kill Switch, standard AES 256-bit encryption and a strict no-logging policy thanks to registration in Panama are also part of the package. Another in-house innovation, the NordLynx security protocol, based on WireGuard, will maximize your browsing speed while overcoming the slightest security breach.
NordVPN
Highly efficient streaming and TV access
Huge number of servers
Innovative NordLynx VPN protocol
A figurehead of VPNs, NordVPN continues to evolve at a rapid pace. Its performance has gone up a notch thanks to the deployment of a network of 10 GB RAM servers and the NordLynx VPN protocol. In addition to remarkable applications, it stands out for its ease of use and excellent stability. A service that we can only recommend, and without a doubt the best VPN for its quality / price ratio.
NordVPN offers you boosted speeds of up to 10 Gb/s and a nice choice of more than 5,500 servers in 60 countries to ensure maximum possibilities according to your needs, including by unblocking your favorite content normally inaccessible given your geolocation real. A French-speaking customer service, as for CyberGhost, answers you by chat 24/7. Enough to get a very solid 9/10 in our 100% independent Clubic opinion.